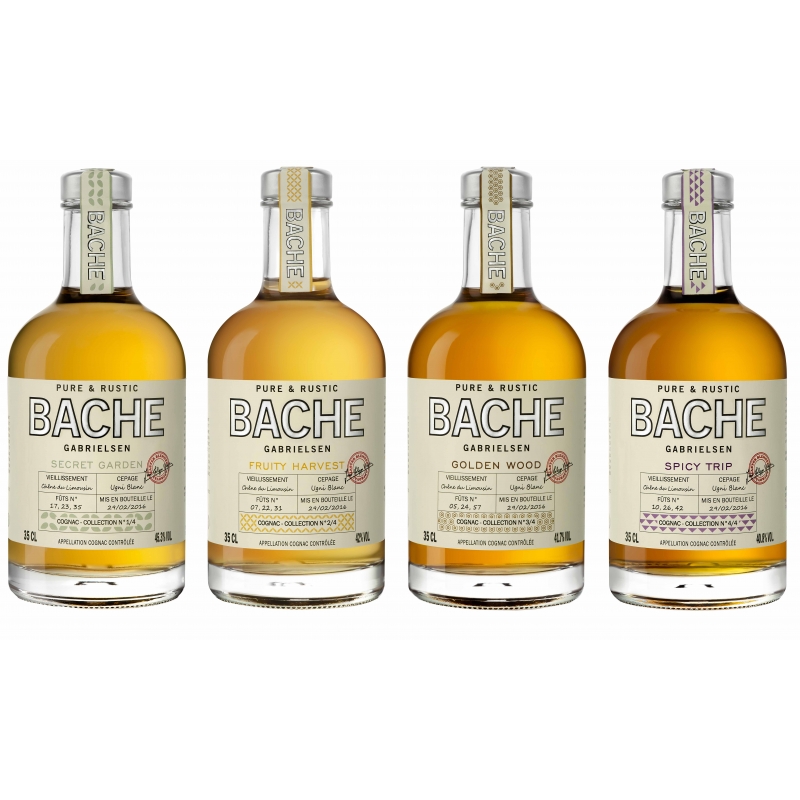  
4 x Pure & Rustic - Cognac Bache Gabrielsen
Exit the traditional codes of cognac, the concepts of crus and the mentions of age statements. It is time to understand what really defines cognac: flavors, taste and sensations : ECRET GARDEN, FRUITY HARVEST, GOLDEN WOOD and TRIP SPICY
Description
Exit the traditional codes of cognac, the concepts of crus and the mentions of age statements. It is time to understand what really defines cognac: flavors, taste and sensations.
 It is with this conviction that the Bache-Gabrielsen House has developed the range PURE & RUSTIC. This new approach to cognac, uninhibited, focuses on flavors. The four cognacs of the PURE & RUSTIC range, with evocative names, are natural and offer to amateurs and outsiders the unique experience of a cognac produced on a distinctive aroma. Four main families of aromas were identified, targeted and isolated. Each one was then highlighted in cognacs PURE & RUSTIC:
- P&R SECRET GARDEN: floral - notes Boxwood, Eucalyptus, Honeysuckle - 45.3% vol.
- P&R FRUITY HARVEST: fruity - notes of Vanilla, Pear, Fresh Almond - 42% vol.
- P&R GOLDEN WOOD: woody - notes of Licorice, Clove, Toasted Bread - 41.7% vol.
- P&R TRIP SPICY: spicy - notes of Black Pepper, Nutmeg, Orange Zest - 40.8% vol.
Consumption aperitif, cocktail, digestive, "café gourmand", food pairing.
Bottle size: 4 x 35cl